Geopathic Stress Symptoms & Solutions
Not all of the risks from EMFs are inside your house. The outside also has risks. For example, geopathic stress lines – which are caused by natural phenomena such as underground streams and cavities and then exacerbated by events such as construction – emit EMFs
Health Issues
You probably don't know if there is a geopathic stress line near you. But if you are experiencing health problems that could be related to EMFs – from insomnia to immune problems to cardiovascular issues to cancer – a geopathic stress line could be at the root of those problems
What Causes Geopathic Stress Lines?
Geopathic stress lines or zones emanate EMF radiation naturally from the earth due to geological features such as underground streams, mineral concentrations, fault lines and underground cavities. When natural radiation rises through the earth from geopathic stress lines, its wavelength becomes distorted. Geopathic stress lines can be virtually any length and run in any direction.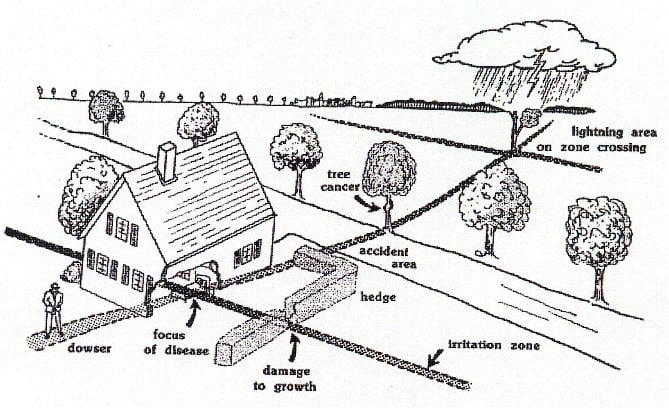 Sources of Geopathic Stress
Man-made alterations of the landscape, anything from underground cables to road construction projects.
Electrical ground current traveling through the earth as "stray voltage" conducted by soil, water, plumbing lines.
Telecommunication towers, electricity pylons, transformers, radar and radio towers as well as electromagnetic fields that emanate from structures such as high tension or satellite towers, electrical street poles or circuit breakers can also add to the geopathic stress issue

Sleeping over Geopathic Stress Lines Can Lead to Health Complications in Specific Areas of the Body.
You probably don't know if there is a geopathic stress line near you. But if you are experiencing health problems that could be related to EMFs – from insomnia to immune problems to cardiovascular issues to cancer – a geopathic stress line could be at the root of those problems.

SafeSpace Solutions designed to counter the harmful EM effects from Geopathic Stress

A great solution for clearing and protecting the earth energy around your home or office. The GeoResonators clear geopathic stress zones and transmute the negative impacts of ground current Read more

An all-in-one solution for clearing and protecting an entire home or office space from the harmful effects of EMF radiation. The EMF Adapter works through a building's electrical circuitry Read more