Radiant Room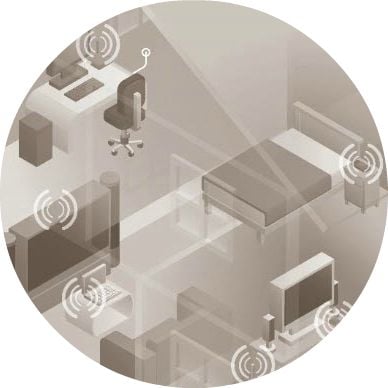 Clear a single room at home or away
The Radiant Room protects smaller spaces from external EMF sources such as smart meters, cell towers, high-voltage power lines, wireless networks and geopathic stress.
It creates an overlay of benign energy that can:
Neutralize harmful EMFs immediately
Help you experience an increased sense of well-being
Enhance mental and emotional clarity
Restore balance and tranquility to your environment
Help you get more-restful sleep.
Start feeling better right away
The SafeSpace Radiant Room begins to work immediately, and it continues to keep the areas clear of EMFs as long as it remains in place. All you have to do is remove it from its velour carrying case and place it on any flat surface or attach it to a wall. You can move it easily from one location to another, although if you remove it from the room, the EMF dissonance will return.

Try the Radiant Room RISK-FREE for 30 days
All SafeSpace products have a 30-day money-back guarantee. If you are not completely happy with the product, return it within 30 days for a full refund.
Home & Office
Mobile & Travel
Outdoor Environment
Personal Protection